Welcome to Castle Fictoria
Hotel, conference and wedding centre
Our Facilities
Castle Fictoria is your retreat from the pressures of daily life, the ideal venue for a holiday or for a working break. We host workshops and conferences and the castle is a popular destination for holidaymakers.
You are strongly advised to make a reservation, but with 109 rooms, we can often accommodate you off-season as you pass through the countryside. We appreciate advance notification of any special dietary or access needs so that we can plan to do our very best to look after you during your stay.
The castle has three acres of well-landscaped grounds for you to relax in, and plenty
of seating throughout so that you can enjoy the sunshine in comfort.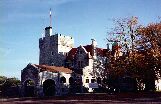 The castle is licensed for wedding ceremonies and we'll be delighted to share your special day and look after your guests throughout the day and the night.
"Thank you for a wonderful honeymoon at Castle Fictoria. The staff cared for us and made our holiday unforgettable. The room was comfortable and a pleasure to make our week-long home. We'll definitely be coming back" - Mr & Mrs Jones, Wales
Features at a glance
AA Approved
Swimming Pool
Restaurant on premises
Balcony & Non-smoking rooms
In- room refrigerator & coffee maker & hairdryer
Free HBO, ESPN & CNN
Airport transportation
Free newspaper
Fax and Photocopy Service
Car rental
Tour Desk