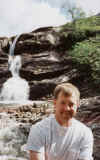 My name is Spencer and I live in Cheshire, England. I have travelled to many places in my spare time but I always like going back to the USA. Ever since going there as an exchange student I have always looked forward to going back. I think there is something for everyone whether you like beach holidays, winter sports or sightseeing tours. This is why I put the Travel2America guide together to try and help fellow travellers choose a destination and also provide enough information to get a bargain flight and accommodation at the right price.
Return Visits
On return visits to the USA I have been back to Texas visiting friends and seen more of Houston and its attractions. I went on a trip to San Antonio to the Alamo, known as the cradle of Texan independence stopping on the way at the Shiner Brewery for some fantastic refreshments (I wasn't driving!).
I have made more trips to Niagara Falls which is always worthy of another visit and travelled from here through Pennsylvania and on to Cleveland, Ohio to see the Rock n Roll Hall of Fame which was quite spectacular.
I have been to Miami and Orlando and would thoroughly like to go back again to this area in the near future. The last area that I have visited is Colorado and was staying in Colorado Springs. In Colorado I visited the Garden of the Gods, The Coors Brewery at Golden, the city of Denver and Red Rocks amphitheatre where many famous musicians have played. Colorado Springs is one of the best places I have visited because the mountain views are spectacular and is a great place to go hiking
I would be grateful for any comments about this site and a feedback form is provided for you to reply
.

All thumbnail photos on this page copyright Spencer Lowe